Oral presentation

Open Access
Reported Treatment Incidence Rate Profile of Main Production Diseases of Dairy Farms in Denmark 1992–1999
Acta Veterinaria Scandinavica
2003
44 (Suppl 1) :P47
Incidence Rate
Mastitis
Milk Output
Dairy Farm
Cattle Husbandry
Integrating disease information in genetic and production improvement for dairy cattle requires detailed registration of disease occurrence. In Denmark, this information need was the main reason for establishing the Danish Cattle Disease Database in 1989 in 3 selected geographic areas and subsequently in 1992 for the whole country. The database has been used to investigate genetic correlation between various production diseases and genetic traits. Selection indexes have been developed to help farmers select breeding stocks that are more resistant to major production diseases like mastitis. Further the database has been used in epidemiological studies to identify risk factors associated with production diseases. However, the use of reported treatments as indicators of disease incidence has been met with reservations. Possible reasons are that 1) reporting is influence by the farmers' ability to identify the disorder. 2) Farmers have different attitudes towards calling the veterinarian and are highly influenced by the cost of treatment. 3) Farmers as well have different risk aversion towards the impact of the disease on milk output. To get an overview of reported treatments, this paper investigated and identified reporting profiles for the main production diseases from 1992 to 1999.
Data was based on a stratified representative random sample of dairy farms provided by the Danish Institute of Agriculture and Fisheries Economics for the period 1996–1999. Information on reported treatment of production diseases from 1992 to 1999 was collected from the Danish Cattle Database through the National Department of Cattle Husbandry. Regression models were formulated to investigate the level of reported treatment over time and identify reporting profiles for the main production diseases.
As already known, mastitis reported treatment is the most common production disease. It is represented by cubic polynomial with a stable level of incidence rate (0.25) per cow between 1995 and 1998. Other disorders (unclassified disorders), Reproduction disorders and Milk fever incidence rate follow the same pattern like mastitis but at incidence rates between 0.03 and 0.17 per cow year (Fig.
1
).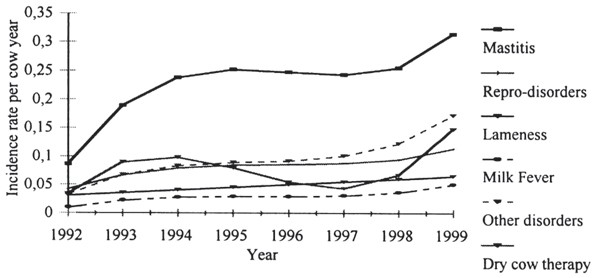 However, Lameness is represented by a linear trend with an incidence rate from 0.03 to 0.05 per cow year. For the disorders in question, incidence rates in 1999 seem to be higher than all years. It is unclear if the increase in 1999 is due to better utilization of the registration or the reporting system, or it is a real increase in disease frequencies.
(1)
Department of Animal Science and Animal Health, The Royal Veterinary & Agricultural University, DK-1870 Frederiksberg C, Denmark
(2)
National Department of Cattle Husbandry, Danish Agricultural Advisory Centre, DK-8200 Århus N, Denmark
© The Author(s); licensee BioMed Central Ltd. 2003
This article is published under license to BioMed Central Ltd. This is an Open Access article distributed under the terms of the Creative Commons Attribution License (http://creativecommons.org/licenses/by/2.0), which permits unrestricted use, distribution, and reproduction in any medium, provided the original work is properly cited.